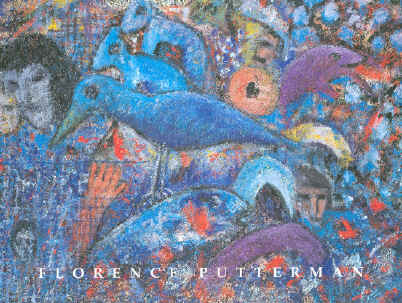 Garden of Eden Series
Acrylic with Sand on Canvas
43" x 48"


Florence Putterman is an abstract painter and printmaker in the whimsical spirit of Joan Miro, Wassily Kandinsky and Paul Klee mixed with the Fauves and the Surrealists, the German Expressionists and Marsden Hartley. Folded into the generous amalgam of her vision was also the spirit of Native American (specifically the Anasazi of the Southwest), Aboriginal and Outsider art, sources that have proven fertile for many contemporary artists. Putterman's work has a primitivistic quality to it, a sophisticated atavism, enhanced by her use of sand and crushed shells to make a crackled, textured support which is gessoed, then layered with sand again before she is ready to paint. Her colors are earthy, pungent, ignited by bold, vivid swirls of reds, greens, blues, yellows, a full spectrum caught up in the roil and turmoil of cosmic energies, in the abundant flow of teeming life that almost seems to sing, a version of Kandinsky's colour as sound.

This show, called "Allusive Metaphors," which also includes a number of lively monotypes consists of a series of paintings of that name as well as "Numinous Legends," "Spiritual Presence," "Looming Luminescence," "Garden of Eden" and so on, titles that underline Putterman's profound interest in the spiritual in art, in first principles and in prehistoric and primitive cultures. They are a restless lot, humming with vitality, crowded as if she wanted to include--as Noah did on his ark--an example of everything that exists under the sun. Her choruses of images, some abstract, some figurative, culled from the intuitive and the unconscious, tap an archetypal vocabulary of forms such as circles, spirals, open triangles, mysterious signs and symbols, stylized hands, strange mythical beasts, birds and fishes. They dance magically across her canvases, cavorting on the surface, coming forward from the ground rather than retreating or sinking into illusionary space. These paintings are all foreground and lateral movement with an impetus outward from the picture plane in a stratification of painted space that bespeaks a cubist- inspired strategy.

The gratifying tactility of her paintings is the result of the directness of her method, of her deployment of materials. She works spontaneously, urgently, completely engaged and often in series, guided by what came before as one mark leads to another, as one image to the next, building her compositions toward greater and greater complexity of assembly and more resonant rhythms that are also almost musical, a correlative to the insistent, impulsive forces of nature.

Putterman's theme is the interdependency of nature and cosmos, expressed from time immemorial, and her paintings and monotypes-- complete, fantastic worlds full of organic and geometric hybrids, of florid, exotic creatures, of Ariels and Prosperos and an occasional Caliban--are a realization of that theme. She has a nostalgic longing for an imagined garden of Eden in its pristine, primal state before the fall. Her painted world is in harmony with the universe, far removed from the urbanization of the twenty-first century yet she wants a contemporary idiom to express her reveries, one that is both narrative and abstract, that acknowledges good and evil, the comic and the tragic. What she advocates, it seems, is that we inform our worldly philosophies and our digitalized, modern life with other, more venerable meanings and pay homage, once again, to the sacred spirits of the earth.

Lilly Wei

Lilly Wei is an independent critic and curator who writes regularly for Art in America and ARTnews as well as other publications.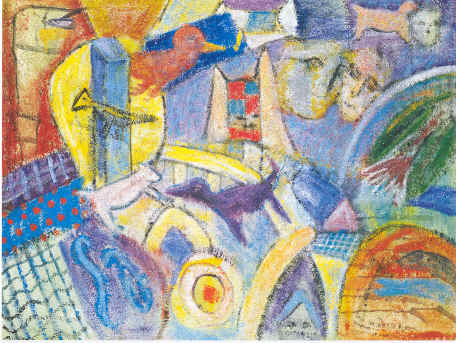 Enimatic Metaphors
Acrylic, sand on wood
37" x 48"
SOLD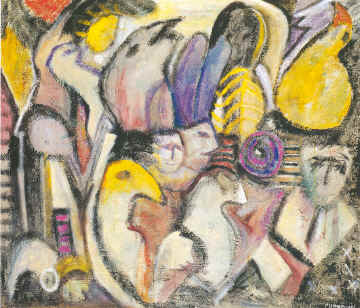 Numinous Legends VI
Acrylic, sand on canvas
38" X 44"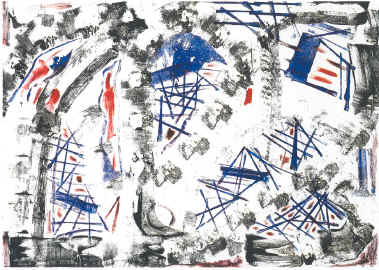 9/11
Monotype on paper
31" x 40"
Sold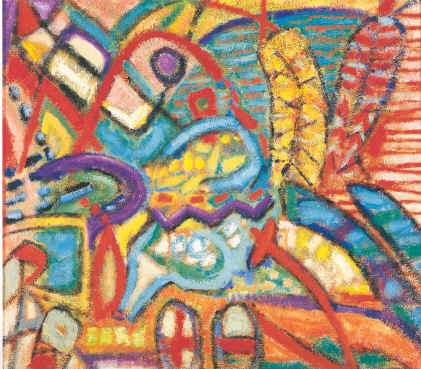 Looming
Oil on canvas
38" x 42"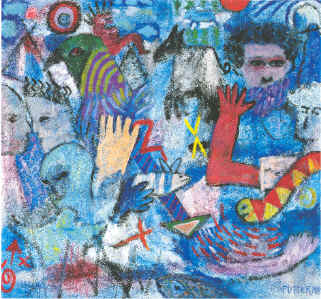 Dreams, Voices, Illusion
Acrylic, sand on canvas
68" x 72"


Wachula
Mixed Media on paper
33 1/2" x 24 1/2"

Spiritual Presence
Acrylic, sand on canvas
48" x 60"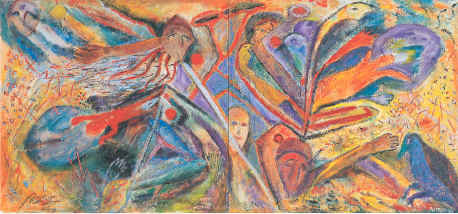 Allusive Metaphors II
Acrylic, sand on linen
42" x 88"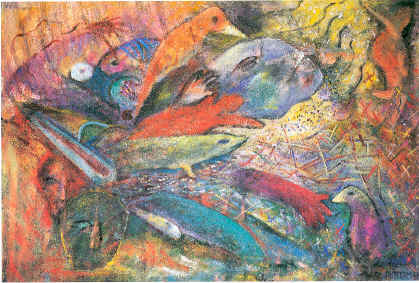 Allusive Metaphors
Acrylic, sand on linen
48" x 70"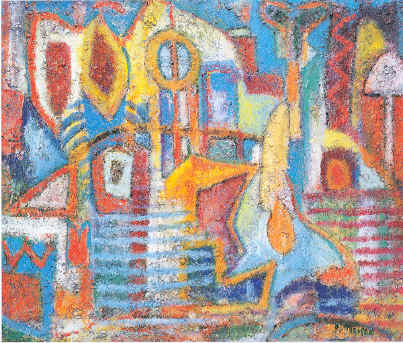 Crosscurrents
Acrylic, sand on canvas
36" x 48"

Allusive Metaphors III
Acrylic, sand on canvas
46" x 50"